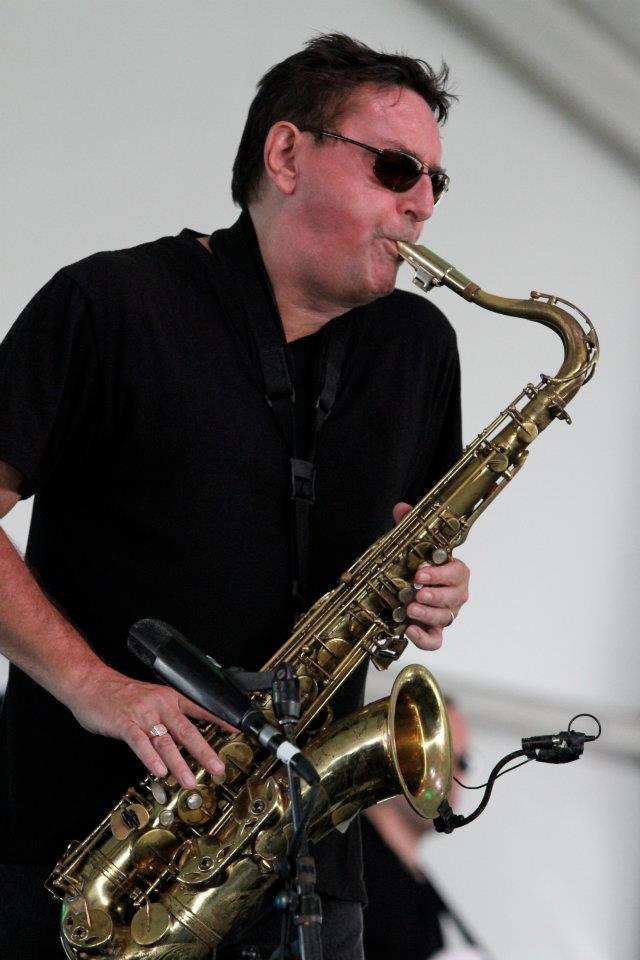 After graduating in performance and composition from the Coventry School of Music in the U K, Geoff kicked off his professional career playing sax for Geno Washington and the Ram Jam Band. Shortly after, Geoff became a founding member of EMI recording artists Dexy's Midnight Runners. During this time he was responsible for the horn arrangements that gave Dexy's their signature sound. Their debut album Searching for the Young Soul Rebels became a hit, spawning 3 UK top 20 singles including the No. 1 Geno. The album was re-released for the third time in 2010, still to rave reviews.
After parting with Dexys, Geoff went on to form The Bureau. With hits in Australia and Canada, they toured the UK and USA with The Pretenders. The Bureau's self titled album was remastered and re-released by WEA in 2005.
In 1984, Geoff became a member of the TKO Horns, touring and recording Punch the Clock with Elvis Costello and the Attractions. Other TKO recording sessions include Nick Lowe, The Fixx, Difford and Tilbrook among many others.
After a short stint with London based EMI recording band The Neighborhood, Geoff moved to New York, where he brought his signature sound to the Celtic rock band Black 47, helping them to enjoy the 25 years of popularity that led them to be referred to as New York's House Band.
In 2011, Geoff released Lost in Space by GI Blythe. This 11 track album was recorded in New York, and featured band members drawn from various previous projects, both in the USA and UK.
In 2014, Geoff collaborated on The Team that Dreams in Caffs. A book of photos and memoirs about the original Dexys Midnight Runners, culminating in the release of the Soul Rebels Album. This book was requested by the Rock and Roll Hall of Fame for its archives.
In 2016, GI Blythe released The Ghosts of Bleecker Street, a 3 track digital single ep.
Other credits include music for TV and film, Off Broadway and classical compositions, and appearances in 2 major motion pictures.
---
Geoffrey Blythe Discography
Aka, Jeff Blythe, JB, GI Blythe
Dexy's Midnight Runners, Searching For The Young Soul Rebels EMI 1980, 20012010, catalog number. 72435256000-4
The Bureau, The Bureau WEA 1981, 2005 catalog number 5046771972
The Pretenders, Pretenders II Sire 1981, Rhino 2001 catalog number 12274177
Elvis Costello, Punch The Clock F-Beat(UK), Columbia(US)1983, Rykodisc 1995, Rhino 2003, Hip-0 2007 catalog number(Rhino)RC73910
Nick Lowe, Nick Lowe and His Cowboy Outfit, Radar(UK) Columbia(US) 1984, Demon Records 2000
Thomas Leer, No.1 (single), 1985 Arista
Dlfford and Tillbrook, Difford and Tillbrook, Hip-0 Select 1984 catalog number 000809402
The Fixx, Walkabout, MCA 1986 catalog number 5705
That Petrol Emotion, Cellophane, Virgin 1988
The Neighbourhood, The Neighbourhood, EMI 1988
Shellyann Orphan, Century Flower , CBS 1989 catalog number CK45198
Tijuana Bible, Gringo Madness, Big Beat 1993, catalog number CDWIK117
Black 47, Black 47 , BLK Records 1991, catalog number 00093
Black 47, Black 47 (EP), EMI/SBK 1992, catalog number 0777 78097129
Black 47, Fire of Freedom, EMI/SBK 1993 catalog number 0777 78068624
Black 47, Home of the Brave, EMI/SBK 1994 catalog number 724383073726
Black 47, Green Suede Shoes, Mercury 1996
Black 47, Live in NYC, Gadfly 1999, catalog number 248
Black 47, Trouble in the Land, Shanachie 2000, catalog number 5741
Seanchai and the Unity Squad, A Sunday at the Turn of the Century, Unity Records 2000, cat. 879398
Larry Kirwan, Kilroy Was Here, Gadfly 2001, catalog number 273
Black 47, On Fire, Gadfly 2001, catalog number 280
Black 47, New York Town, Gadfly 2004, catalog number 286
Black 47, Elvis Murphy Green Suede Shoes, Gadfly 2005, catalog number 289
Black 47, Bittersweet 16, Gadfly 2006, cat number 292
Black 47, Iraq, United For Opportunity(UFO) 2008 catalog number 1013
Black 47, Bankers and Gangsters, UFO 2010, catalog number 1022
GI Blythe, Lost in Space, Saxofficer Productions 2012, catalog number SP001
Black 47, Last Call
GI Blythe, The Ghosts Of Bleeker Street, Saxofficer Productions 2012, catalog number SP002
Edward Rogers, Glass Marbles, ZIP Records 2016
Edward Rogers, TV Generation, ZIP Records 2017
Samsonite Gypsies, Samsonite Gypsies Music 2018
GI Blythe, Keep It(single), Saxofficer Productions 2020
Samsonite Gyspies, I Need A Sunny Day, Samsonite Gypsies Music 2021
---
Television Soundtrack
A Partly Satirical Broadcast, BBC 1982
---
Movie Soundtrack
Into The West, 1992, director Mike Newhall
Kisses on a Train(complete soundtrack), 1993, director Dinaz Stafford, winner of Paris Film festival Short Film
The Saint of Fort Washington, 1993, director Tim Hunter
Looking For An Echo, 2000, director Martin Davidson
---
Movie On Screen Performance
The Saint of Fort Washington
Looking For An Echo